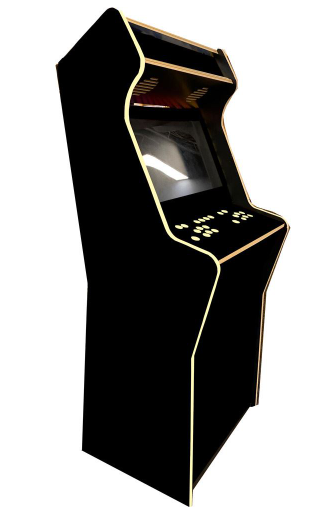 Arcade Stand Up Cabinet Support for 27" Monitor - Unassembled
For many people this 3/4 arcade cabinet is the Goldilocks Size. Its large enough to provide an authentic stand up arcade experience and allow two players to compete without feeling cramped, but takes up less space than the full size arcade cabinet. This mid-size cabinet houses a 27 monitor. Cam locks allow for quick and easy assembly. Our wide selection of buttons, joysticks, graphics, and other components make it easy to build your perfect arcade cabinet.
* This kit does not come with any arcade parts, monitor, or power supply - this is only the MDF Wood and Plexiglas Banner and Screen. 
Compatible with:
27" LCD Monitor with VESA Mounting Holes

American Style Joystick

HAPP Style Buttons 
Width
27.00 in. (685.80 mm)
Depth
22.00 in. (558.80 mm)
Height
66.00 in. (1676.40 mm)
Weight
120.00 lbs. (54.43 kg)