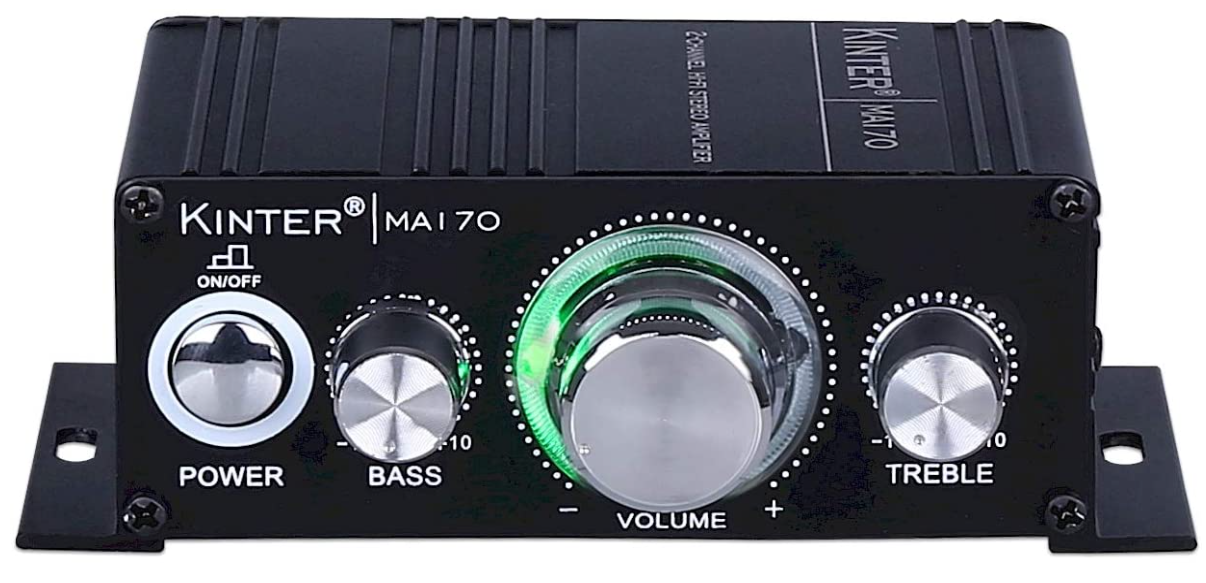 Kinter MA170 12V 2 Channel Mini Digital Audio Power Amplifier
Kinter MA170 2-Channel 2 x 18 W Mini Amplifier Bass Treble RCA Input Audio for Applications Including DIY, Arcade, Home, Auto & More!
A PROVEN LEADER
Designed for MAXIMUM VALUE and performance, the no frills MA170 is about the cost of a loaded burrito, yet contains features found in amplifiers costing 3 and 4 times as much. The Kinter MA170 is the leading choice for mini audio amplifiers used in DIY, Arcade, Home, Garage, Office and other listening areas.
A CUSTOMER FAVORITE
Frankly put, customers love the MA170 so much they buy 2, 3 or more, due to the features and broad applications, the tiny little MA170 has been the choice for powering speakers in thousands upon thousands of applications.
LOW COST - HIGH PERFORMANCE
Kinter's MA-170 mini amplifier is the new value leader in audio amplifiers, with 18 watts of robust power per channel and a stylish, modern appearance. The latest in IC-based amplifier technology delivers smooth, natural sound without fatigue or distortion, while running cool and drawing minimal power.
SMALL and VERSATILE
The Kinter MA170 is the real deal! You can use the MA-170 in a 2-channel home audio system, or build its capability into a portable unit that can be taken anywhere. RCA inputs and convenient spring terminal outputs will work with virtually any source and speakers to create a great sounding audio system. The black anodized aluminum housing's integrated mounting tabs make it easy to mount the amp anywhere. The glowing LEDs really set the mood for any music genre.
SPECIAL NOTE
The MA170 does not come with a power supply, however it uses a standard 12VDC power supply or can be wired to a 12 Volt battery using a DC power cable (sold separately) In addition, you will most likely require a RCA to 3.5mm cable to input audio signal into the MA170 Amplkifier. If you have any questions, we are here to help.