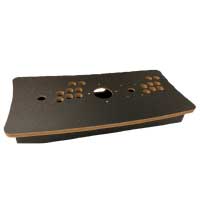 2-Player Fight Stick Cabinet with Trackball Cutout - Unassembled
The 2 player Fight Stick with Trackball combines space savings with an excellent control layout. A large trackball allows you to experience vintage arcade games with their original controls. The Fight Stick with Trackball is compatible with a wide range of emulators and systems.
*Trackball not included. 
Recommend Baolian PS/2 Trackball - Note that trackball support on RetroPie needs to be configured per game.